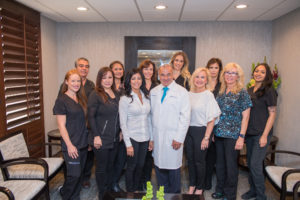 Our Medical Director for the Center for Cosmetic Surgery in San Diego, California, is Sassan Alavi, M.D. There are many members of our staff that you'll meet from your initial free consultation through pre-surgical appointments, surgery, and post-appointments. Habla español.
Our Staff
All of the staff at our center are specialists in different areas of cosmetic surgery. During your initial consultation, you will meet a specialist who can answer questions and guide you through the process. Many surgical and non–surgical options can be explored to get the best results possible. You will also consult with your plastic surgeon, Dr. Sassan Alavi.
What Makes Us Different
You are unique, and so is your body. The work we perform at the Center for Cosmetic Surgery is unique to every individual, tailored to achieve your vision and the results you've dreamed of that will fit right into your lifestyle. Therefore, we strive to provide personalized care structured for each cosmetic surgery patient we serve. We know that choosing a plastic surgeon and a surgery center is personal. We encourage you to read our reviews to hear what our customers say about our service, especially about the comfort care they receive from us from their initial meeting through their post-surgery appointments. We have many patients who come back again and again for other procedures because of how satisfied they are with their results. We're sure you'll find a theme as you read through our reviews, most of our patients go to 4 or 5 consultations and end up choosing The Center for Cosmetic Surgery & Dr. Alavi as their surgeon, and we are certainly glad they did!
Once you have decided that a cosmetic procedure is correct for you, there is no better time than now to schedule your surgery. We believe that the benefits of cosmetic surgery should be made available to those who seek it. We are pleased to provide several payment methods to meet the financial situations of almost everyone.
We look forward to seeing you at the Center for Cosmetic Surgery in San Diego!